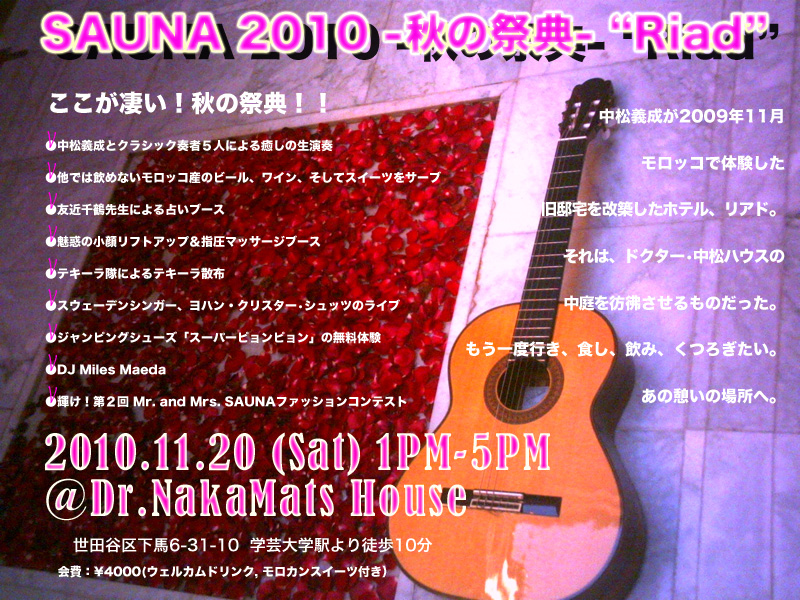 Now it is November and reminded me of my Morocco trip in November, 2009 to visit Sahara Desert.
I stayed in a hotel in Marrakech, called Riad, an old bug house with wellhole,
and when I returned to my house, I felt my Dr. NakaMats House as a riad.
Riad has nice calm silence and slow time, which I always desire to be.
Let's run away to riad and find the meaning of what true rich life is...
To join the party, please make a reservation by November 16 'Tue)
by sending us your e-mail with names, e-mail addresses, and the number of the people at:
contact@available-lights.jp
Event Title: SAUNA 2010 - Autumn Fes- "Riad"
Date: November 20 (Sat) 1PM-5PM
Charge: 4,000 yen (including 1 Moroccan drink and 1 Moroccan sweet).
Organized by DNR
Supported by Dar Roiseau Sangen-Jyaya
Dress Code: brown, red, colors of Morocco Land
Here the attractive bullets:
-Yosshy's acoustic slow music with 5 classical musicians (2 Violins, 1 Viola, 1 Band Neon, and 1 Contrabass)
-Served Moroccan bears, wines, and sweats
-Tomochika Mama's life counseling (1,000 yen/ 10 min)
-Shiatsu and face massage to make your face smaller and smoother (1,000 yen/ 10 min)
-Tequila team to spread tequila shots
-Swedish singer performance y Johan Christer Schutz
-Let's pyon-pyon jumping shoes
-DJ Miles Maeda
-Fashion contest of Mr. Miss SAUNA (who looks cool Moroccan?)
How to get Dr. NakaMats House
6-31-10 Shimouma Setagaya-ku
1.Tokyu Tohyoko Line "Gakugei Daigaku" station. 10 min. to walk.
2.From Shibuya, take Tokyu Bus (No.32), going to Nozawa Ryu-unji, get off at "Housou Daigaku Gakushu Center" and 1 min to walk.
Here is the map:
http://www.available-lights.jp/2010_11_20_sauna._map.pdf
The previous party at Dr. NakaMats House:
http://picasaweb.google.com/availablelights/CafeDeYoshiCDReleasePartyJuly12200802#
Note 1: There is a ceiling so that rain would not matter
Note 2: Since it is wellhole, it is cold as the outside. Come with warm cote.
Note 3: Please use pay-parking spaces around the station.
Note 4: There is no actual "sauna." SAUNA is a term and the idea came from old Roman ear, where tired fighters healed and used the place as human net works.
Yoshinari Nakamatsu
Singer and songwriter, guitarist. From Bossa Nova to Reggae.
www.available-lights.jp
www.myspace.com/yoshinarinakamatsu
https://twitter.com/cafe_de_yoshi