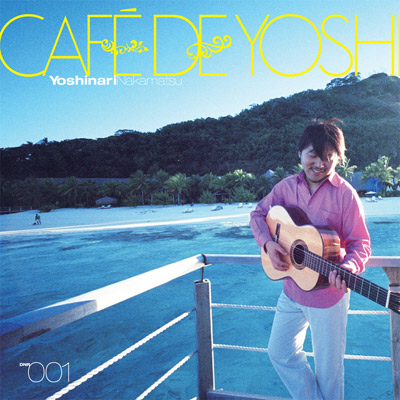 皆様
お待たせしました!
以前より中松義成の1st SOLO EP「Cafe De Yoshi」の配信版を手に入れたいという方々が遠方、海外にいらっしゃいましたが、2009年7月22日(水)より、i-Tune Stores及び携帯着歌サイトなどで配信されることが決定しました。購入は下記の配信サイトより可能となります。
デジタル配信元一覧:
着うた 着うたフル LISMO RBT ストリーミング Napster (アラカルト・サブスクリプション)  レーベルゲート(Mora 他) USEN (OnGen 他) リッスンジャパン KINGBEAT mixi NTT Commu.(MSN 他) レコミュニ iTunes
Plus iTunes JP iTunesアメリカ iTunes カナダ iTunes イギリス iTunes オーストラリア iTunes ニュージーランド iTunes フランス iTunes ベルギー iTunes
デンマーク" iTunes ドイツ iTunes スペイン iTunes フィンランド iTunes ギリシャ  iTunes アイルランド  iTunes イタリア  iTunes ルクセンブルグ iTunes オランダ  iTunes ノルウェー iTunes オーストリア iTunes ポルトガル  iTunes スイス iTunes スウェーデン  Hear Japan ONKYO IODA mnet
また、今回の配信はオリジナルアルバム収録の6曲に2曲のボーナストラック("Another Way"は未発表曲、You Can Be Like ThatのRemix)を加えた8曲を配信します。曲目は下記の通りです。
1. Under The Sun
2. Pastel
3. You Can Be Like That
4. Eternal Light
5. Dear Wine
6. Nemuru Tsuki
7. Another Way
8. You Can Be Like That -DUB Mix-
中松義成Official Web Site:
http://www.available-lights.jp
http://www.myspace.com/yoshinarinakamatsu
******************************************************************
Dear everyone,
Those of you who wanted to buy Yoshi's 1st solo EP "Cafe De Yoshi" digitally, it will be available from July 22, 2009! It will be distributed at digital music stores in countries including i-Tunes Stores and Japanese cell phone digital music stores.
Here are the list of the digital stores:
Japanese stores:
Chaku-Uta, Chaku-Uta Full, LISMO, RBT Streaming, Napster (a la carte Subscription), Label Gate (Mora, etc), USEN (OnGen etc.), Listen Japan, KINGBEAT, mixi, NTT Commu. (MSN etc.), Reco-Commu., iTunes Plus, iTures JP, Hear Japan, ONKYO, mnet
Overseas:
iTunes USA, iTunes Canada, iTunes UK, iTunes Australia, iTunes New Zealand, iTunes France, iTunes Belgium, iTunes Denmark, iTunes Germany, iTunes Spain, iTunes Finland, iTunes Greece, iTunes Ireland, iTunes Italy, iTunes Luxembourg, iTunes Holland, iTunes Norway, iTunes iTunes Austria, iTunes Portugal, iTunes Switzerland, iTunes Sweden, IODA
The digital version of "Cafe De Yoshi" contains the previous 6 tracks plus 2 unreleased tracks: "Another Way" and "You Can Be Like That -DUB Mix-."
Here are the track list:
1. Under The Sun
2. Pastel
3. You Can Be Like That
4. Eternal Light
5. Dear Wine
6. Nemuru Tsuki
7. Another Way
8. You Can Be Like That -DUB Mix-
Yoshinari Nakamatsu Official Web Site:
http://www.available-lights.jp
http://www.myspace.com/yoshinarinakamatsu